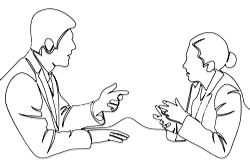 Research Support Services
Welcome to the research support services of RH! RH offers you support and help at every specific step in your research project. With the latest IT-enabled tools and techniques, every stage in your research can turn out to be a great learning experience!
Avail the services in various disciplines in the domains of Social Sciences, Management Science, Life Sciences and Medical Sciences.
• Support at specific stages of research • IT enabled tools and techniques • Services offered online.• Real-time working with experts • Option for shared screens, live interactions and live outputs • Avail services without leaving your place • Facility to pre-book time slots • Time-bound completion • Complete confidentiality • Significant savings on time, cost and efforts.
Availing support for your research from Research Helpline is really easy!
Please fill up the enquiry form and receive free cost estimates within hours! 
Need to Talk/Chat?
Welcome! Happy to talk/chat with you. 

+91-90373-44123
JOIN OUR WHATSAPP BROADCASTING!

 Add +91-9037344123 to your contacts and send a message "Hello" to us.
Receive research tips and updates. It's useful!